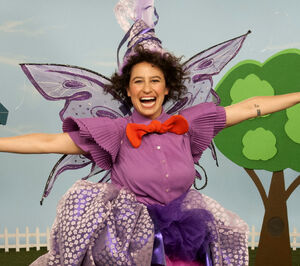 Ilana Glazer (b. 1987) is an actress and comedienne, best known for her starring role on Comedy Central's Broad City. Her other roles include guest appearances on Inside Amy Schumer and BoJack Horsman.
Glazer began appearing as Ms. Noodle in season 48 editions of "Elmo's World." From the set of the segment, she shared a joke with Elmo for the show's "Spread Kindness, Share the Laughter" campaign. (YouTube)
Ad blocker interference detected!
Wikia is a free-to-use site that makes money from advertising. We have a modified experience for viewers using ad blockers

Wikia is not accessible if you've made further modifications. Remove the custom ad blocker rule(s) and the page will load as expected.