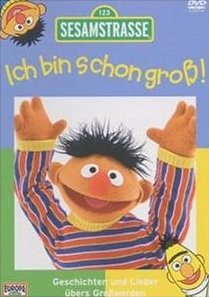 Ich bin schon groß! ("I'm great!") is a Sesamstrasse video.
Segments
Wer, wie, was
Größer werden
Was will Natascha werden?
Wir sind gewachsen
Mutter und Tochter im Zoo
Alice im Wunderland
Wir haben zu Hause ein Baby
Ernie möchte Arzt werden
Grobi hat Angst im Dunkeln
Monsterbaby-Kindergarten
Manchmal mag ich träumen
Die Prinzessin im niedrigen Turm
Wir helfen einander
Der clevere Keks
Jemand ist etwas älter
Ich hab' eine Burg gebaut
Zählen ist wunderbar
Wir wachsen, fühlen, seh'n
Wer, wie, was
Ad blocker interference detected!
Wikia is a free-to-use site that makes money from advertising. We have a modified experience for viewers using ad blockers

Wikia is not accessible if you've made further modifications. Remove the custom ad blocker rule(s) and the page will load as expected.