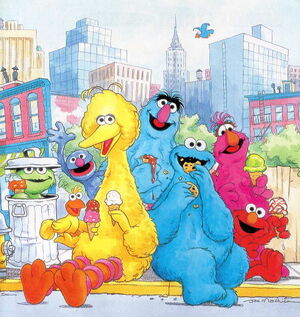 Ice cream is a frozen dairy confection, usually consumed as a snack or dessert. The earliest precursors of ice cream were around as early as 400 BC in Persia, and frozen desserts were developed in tandem by many different people all over the world. However, the sweet mixture of milk, cream and egg that we are familiar with today didn't become popular and widespread until the 18th century. Early ice cream was usually produced by churning the ingredients with ice in a hand-cranked device (a process arduously duplicated by Telly in Elmo's Magic Cookbook). With the advent of refrigeration, however, and the ice cream parlor, consumers could indulge in frozen sweetness without labor, even going so far as to eat directly out of the carton.
Ice cream is a very popular foodstuff on Sesame Street. Ernie, Prairie Dawn, Count von Count, Mr. Hooper and many others have sold ice cream, and it's hard to find a character on Sesame Street that hasn't eaten or at least mentioned it.
It has even been claimed that "everyone likes ice cream". This theory has not been proven, but such noted figures as George Washington, Thomas Jefferson, and Benjamin Franklin were devotees of the substances. Some have gone so far as to suggest that ice cream is the world's second greatest gift: after children and before laughter (Kermit the Frog and Walter in The Muppets).
Ice Cream's Temporal Nature
The fleeting nature of life's sweetest pleasures can be amply demonstrated by the tendency of ice cream to melt if not consumed quickly. Like many good things, ice cream can and will desert us, or at least make a mess, if we do not take timely precautions to preserve it.
Ice Cream as Unhealthy Temptation
In 2005, Sesame Street undertook an initiative to promote healthy eating and exercise habits, called Healthy Habits for Life. Sadly, this means that ice cream and its sugary relatives have been relegated to a lesser role in the show, and have occasionally been denigrated directly or by implication.
General References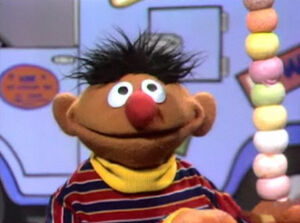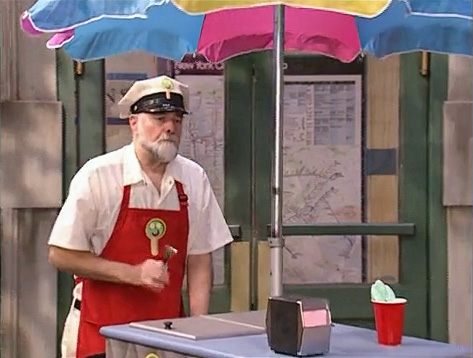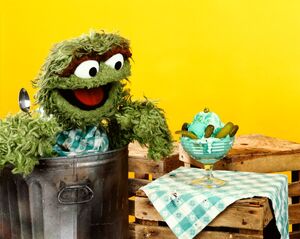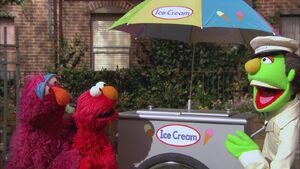 Non Sesame Street References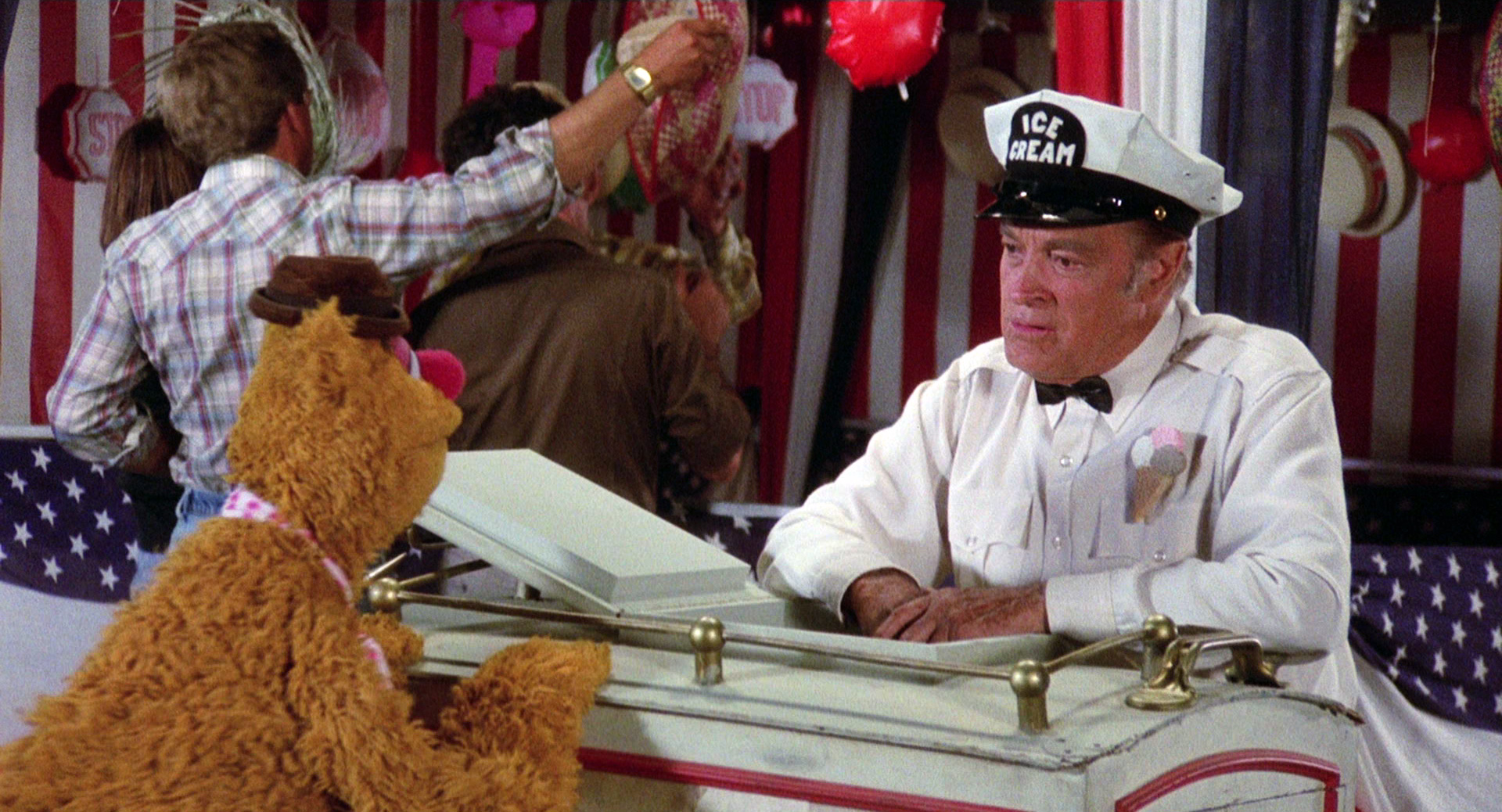 Merchandise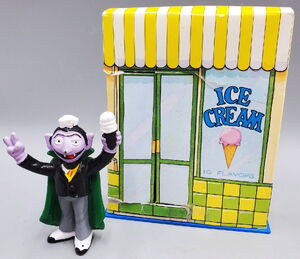 In 1976, Knickerbocker produced a playset of "Ernie's Ice Cream Truck" with an Ernie rag doll and a small popsicle. (Note: technically, popsicles are not ice cream; they are frozen novelties.)
The 1978 The Sesame Street Bedtime Storybook contains a story entitled "Grover and the Twenty-Six Scoops," in which Herbie and Betty Lou order 26 scoops of ice cream.
The 1980 book What Did You Bring? shows ice cream as one of 15 separate deliveries to Sesame Street on a given day.
In 1984's A Baby Sister for Herry, Herry Monster learns that while babies get a lot of attention, they aren't old enough to enjoy ice cream. Here, ice cream is shown in the rare position of being a reward for being more grown up.
The 1986 album from Sesamstraat, Op Avontuur met Tommie, includes a story entitled "Mogen Wij Een Ijsje?" ("Can We Have Ice Cream, Please?")
A 1986 PVC figure of Baby Kermit holds an ice cream cone.
The 1990 video game Muppet Adventure: Chaos at the Carnival has a level which takes place in the Amazing Ice Cream Maze. Sadly, none of it is consumable, merely serving as icy obstacles between Fozzie Bear and the exit.
In 1992, one of the set of Sesame Street trading cards featured ice cream.
A German PVC figure portrays Grover holding an ice cream cone.
A collection of figures of Sesame characters doing jobs shows The Count as an ice cream salesman.
In the 2006 Sesame Street coloring book Outdoors All Day! Cookie Monster is seen in front of an ice cream cart, holding an ice cream cone with four scoops. The next page shows Cookie with an empty cone, and the reader is urged to draw scoops on the cone. The book then asks the question bedeviling ice-cream aficionados everywhere: "How many can you fit?" Much later in the book, Oscar fixes himself a sardine sundae.
Ice Cream Vendors In Real Life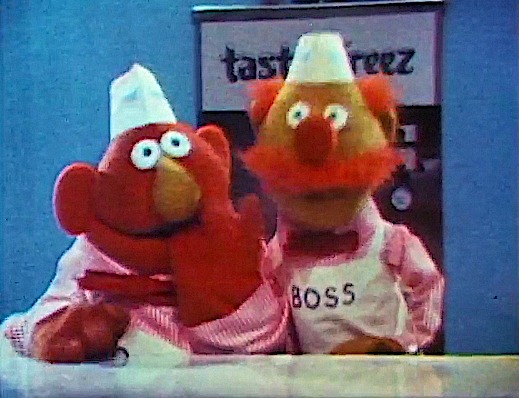 Sources
Ad blocker interference detected!
Wikia is a free-to-use site that makes money from advertising. We have a modified experience for viewers using ad blockers

Wikia is not accessible if you've made further modifications. Remove the custom ad blocker rule(s) and the page will load as expected.