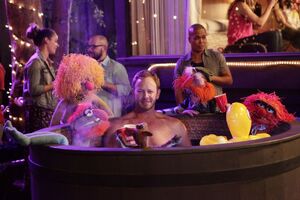 Ian Ziering (b. 1964) is an American actor and voice actor best known for his role as Steve Sanders on the television series Beverly Hills, 90210, which he played from 1990 to 2000. He is also the voice of Vinnie on Biker Mice from Mars. More recently, he has played "Fin" in the Sharknado film series.
In 2016, Ziering appeared in The Muppets episode "A Tail of Two Piggies."
Ad blocker interference detected!
Wikia is a free-to-use site that makes money from advertising. We have a modified experience for viewers using ad blockers

Wikia is not accessible if you've made further modifications. Remove the custom ad blocker rule(s) and the page will load as expected.