I Wonder 'Bout the World Above Up There
Talk

0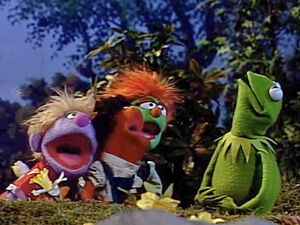 "I Wonder 'Bout the World Above Up There" is a Sesame Street song sung by Kermit the Frog and three Anything Muppet kids.
The song begins with Kermit and the kids at a park. The kids are looking down for objects, but Kermit is looking up in the sky, and they start singing about the things that are up above them.
Taped on November 21, 1989, the segment was Jim Henson's final singing performance as Kermit the Frog on Sesame Street.[1] The kids were performed by Jerry Nelson, Camille Bonora, and Martin P. Robinson.
Lyrics for this song appear in the 2005 book It's Not Easy Being Green.
Big Bird, Elmo, and Hu Hu Zhu sang a modified version of this song in the finale of One World, One Sky: Big Bird's Adventure.
Releases
Audio
Sources