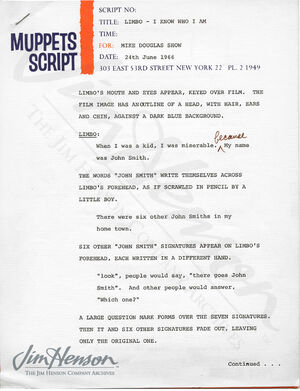 I Know Who I Am is a short film by Jim Henson featuring Limbo. Combining live puppetry and pre-recorded film, Henson originally gave the premiere on The Mike Douglas Show in July 1966.
The film comically features the identifying numbers given to people in everyday life such as can be found on passports and driver's licenses.
Ad blocker interference detected!
Wikia is a free-to-use site that makes money from advertising. We have a modified experience for viewers using ad blockers

Wikia is not accessible if you've made further modifications. Remove the custom ad blocker rule(s) and the page will load as expected.