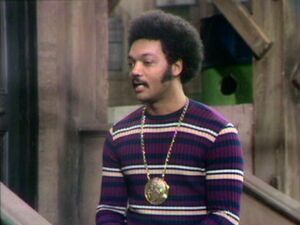 "I Am - Somebody" is a poem by Reverend Jesse Jackson, which he recited on Sesame Street in 1971. The poem emphasizes the individuality and significance of all people, regardless of size, appearance, race, or economic status. The scene took place on the stoop of 123 Sesame Street, involving a large group of children, who joined in on the "I am somebody" portions together. The full text was included in the book Sesame Street Unpaved.
According to The Reader's Companion to American History, the poem was written as part of push-Excel, a program designed to motivate black students.[1]
Cultural references
In 1991, when Dr. Seuss died, Saturday Night Live alluded to the the poem by having Jackson recite "Green Eggs and Ham" in the same oratative fashion with which he performs "I Am - Somebody."
The phrase has become so much of a calling card for Jackson that he yells it in a cameo in the movie Undercover Brother.
Releases
Video
Sources
↑ Houghton Mifflin The Reader's Companion to American History by Clayborne Carson
Ad blocker interference detected!
Wikia is a free-to-use site that makes money from advertising. We have a modified experience for viewers using ad blockers

Wikia is not accessible if you've made further modifications. Remove the custom ad blocker rule(s) and the page will load as expected.