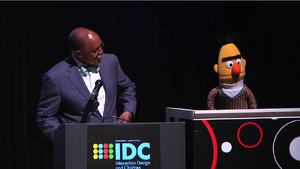 The IDC 2013 conference was held in New York City in late June 2013.
The Welcome Evening for the conference was co-sponsored by Sesame Workshop. Bert (Eric Jacobson) served as the host for the evening, introducing speakers H. Melvin Ming and Rosemarie Truglio, as well as a musical performance presented by Carnegie Hall's Weill Music Institute.
Ad blocker interference detected!
Wikia is a free-to-use site that makes money from advertising. We have a modified experience for viewers using ad blockers

Wikia is not accessible if you've made further modifications. Remove the custom ad blocker rule(s) and the page will load as expected.