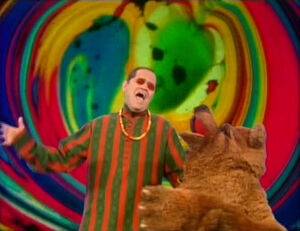 "I'm a Believer" is a song made famous by the Monkees, which was sung by Bobo the Bear on episode 105 of Muppets Tonight.
Bobo sings the song in front of a psychedelic background as a sign of his devotion to guest star Cindy Crawford, in what he calls a "60s retro montage fantasy." He is then joined by Mickey Dolenz, the Monkees' drummer. Dolenz complains that Bobo is ruining his song, but all is soon forgiven, and they finish the song together.
Ad blocker interference detected!
Wikia is a free-to-use site that makes money from advertising. We have a modified experience for viewers using ad blockers

Wikia is not accessible if you've made further modifications. Remove the custom ad blocker rule(s) and the page will load as expected.