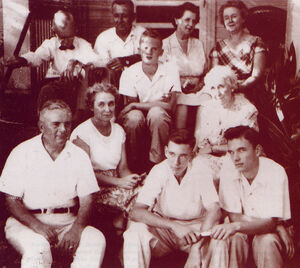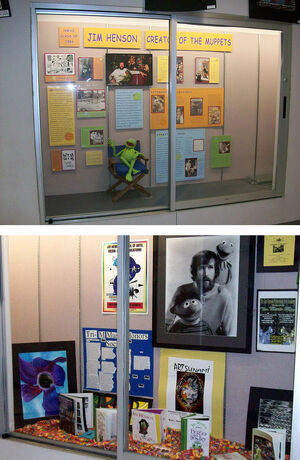 Hyatsville, Maryland is a suburb of Washington, D.C. located northeast of the city in Prince George's County.
In the late 1940's, Jim Henson's father, Paul, an agronomist with the Department of Agriculture, was transferred from Stoneville, Mississippi to the Washington, D.C. area.[1][2] The Henson family relocated to Hyattsville, MD, where Jim Henson's mother, Betty, had lived with her family before marrying Paul Henson. In Hyattsville, Henson developed many of the interests that he would pursue for the rest of his life, including puppetry and television.[2]
Henson attended Northwestern High School in Hyattsville, where he joined the puppetry club to design sets.[2] After graduating on June 14, 1954, Henson continued to live at his parent's Hyattsville residence throughout his college years, moving away to Bethesda, Maryland only after he and Jane Nebel wed in 1959. Henson's original puppet workshop and headquarters of Muppets, Inc. were located in his parents' house.[3]
Northwestern High School
"

On October 5, 2002, Northwestern High School in Hyattsville, MD officially dedicated The Jim Henson School of Arts, Media & Communications as an "art themed school that aims to nurture artistic development while encouraging rigor and relevance in all subjects". Jane and Heather Henson, as well as Legacy Board President Al Gottesman, Executive Director Arthur Novell and Board Member Karen Falk were in attendance for the ceremony. Soon after the dedication, the school announced that they have been named a magnet school in their district. In addition to local press coverage, Jim's 1950's local television colleague Willard Scott announced the event on The Today Show. Reproductions of artwork from Jim Henson's high school period, Muppet Babies Plush and Animation Cells were made available as a lobby exhibit for the school. The Legacy plans to remain an active participant in the school's future.[4]

"
See also
Sources
External links
Ad blocker interference detected!
Wikia is a free-to-use site that makes money from advertising. We have a modified experience for viewers using ad blockers

Wikia is not accessible if you've made further modifications. Remove the custom ad blocker rule(s) and the page will load as expected.