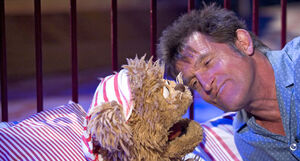 Huub van der Lubbe (b. 1953) is a Dutch actor and singer.
In the Sesamstraat Kerstspecial 2009, Lubbe appeared with Tommie, where the two sang "Trappetje Naar de Maan". This song also aired in a normal episode on November 20.
Lubbe also dubbed many of the songs in Pixar's Toy Story films, and appeared in the Academy Award-winning film The Assault.
External links
Ad blocker interference detected!
Wikia is a free-to-use site that makes money from advertising. We have a modified experience for viewers using ad blockers

Wikia is not accessible if you've made further modifications. Remove the custom ad blocker rule(s) and the page will load as expected.