Humpty Dumpty (Sesame Street)
Talk

9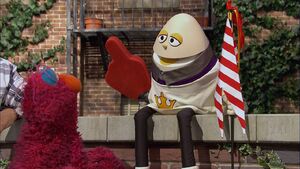 Humpty Dumpty appeared in a Sesame Street News Flash sketch, a retelling of the Humpty Dumpty nursery rhyme. (EKA: Episode 0705)
In episode 3076, Humpty Dumpty appeared on the street, trying to find a different place to sit on. He appeared again in episode 4068 to help Telly Monster cope with his fear of falling down from his pogo stick. He later appeared in a sketch in episode 4145 to advocate the use of safety helmets.
Humpty Dumpty was redesigned for an appearance in episode 4180. The revised Humpty also appears in a season 42 episode and a season 43 Word of the Day segment with Timothy Olyphant.
A modified build of the original Humpty Dumpty puppet (with open eyes) appeared in episode 3892, as an egg named Egg (performed by Joey Mazzarino) who fumes over the term "rotten egg."
Performer History