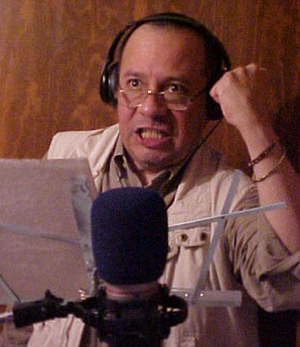 Humberto Vélez is a Mexican voice actor who has been heard in several Spanish-language versions of Muppet/Henson productions. His Muppet dubbing resume includes Yves St. La Roach (renamed Pierre) in The Animal Show, Bubba in Muppets from Space, and Huxley in The Adventures of Elmo in Grouchland. Most recently, he's been the primary voice of Dr. Teeth and other tertiary characters in The Muppets (Los Muppets) and Muppets Most Wanted (Muppets 2: Los más buscados).
For fifteen years, Vélez dubbed Homer Simpson on Los Simpsons, and has also voiced Winnie the Pooh in The Book of Pooh and other recent projects. Other animation dubbing credits include Peter Griffin on Family Guy, Lord Farquaad in Shrek, P. T. Flea in A Bug's Life, and the Underminer in The Incredibles. Live-action dubbing credits include Danny DeVito in Big Fish and many other movies, John Goodman in King Ralph and others, James Gandolfini on The Sopranos, Robin Williams in Hamlet, Richard Griffiths in Hugo, and Raul Julia in The Addams Family films.
Muppet dub credits
Creature Shop dub credits
External links
Ad blocker interference detected!
Wikia is a free-to-use site that makes money from advertising. We have a modified experience for viewers using ad blockers

Wikia is not accessible if you've made further modifications. Remove the custom ad blocker rule(s) and the page will load as expected.