This is a disambiguation page — a list of articles associated with the same title.
Humanoid Muppets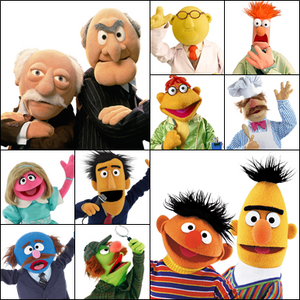 While most Muppets are animals, monsters or other abstract creatures, there are many Muppet characters that resemble human beings. These characters feature a humanoid, albeit stylized or caricatured, design. While clearly still Muppets, these characters also refer to themselves as "men," "women," "boys," "girls," "people" and/or "humans."
Within the Muppet franchise, this includes such characters as: Statler, Waldorf, Scooter, The Swedish Chef, Dr. Bunsen Honeydew, Beaker, Dr. Teeth, Floyd Pepper, Janice, Zoot, Clifford, Johnny Fiama, The Newsman, Walter, Lew Zealand, Crazy Harry, Chip, and countless Whatnots.
On Sesame Street, this includes such characters as Bert, Ernie, Prairie Dawn, Guy Smiley, Mr. Johnson, and countless other Anything Muppets.
See also
Ad blocker interference detected!
Wikia is a free-to-use site that makes money from advertising. We have a modified experience for viewers using ad blockers

Wikia is not accessible if you've made further modifications. Remove the custom ad blocker rule(s) and the page will load as expected.