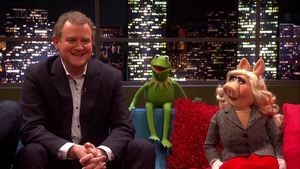 Hugh Bonneville (b. 1963) is an English stage, film, television and radio actor. His notable credits include ITV's Downton Abbey (as Robert, the Earl of Grantham) and BBC's Twenty Twelve (as Ian Fletcher).
In 2012, he appeared on The Jonathan Ross Show with Kermit the Frog and Miss Piggy. During the conversation, Bonneville kissed Piggy on the couch.
His other roles have included playing Schiller in Kenneth Branagh's 1994 movie Frankenstein (with Robert De Niro, Ian Holm, and John Cleese), Bernie in Notting Hill (produced by Duncan Kenworthy), Rev. Brook Bridges in Miss Austen Regrets, and Captain Avery in two season six Doctor Who episodes.