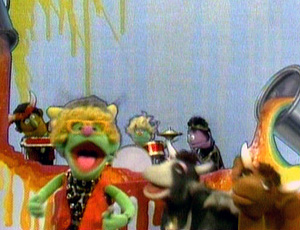 How Now Brown and the Moo Wave are a Muppet new-wave rock band seen on Sesame Street in Season 16,[1] spoofing on then-current new-wave rock bands. The band's lead singer was How Now Brown (voiced by Christopher Cerf, who also wrote the group's music), whose backup singers were two recurring Muppet cows (voiced by Cheryl Hardwick and Ivy Austin).
The other band members were comprised of three Anything Muppets: a Pumpkin keyboardist (who wears a headband with built-in cow horns), a Green drummer, and a Lavender guitarist (both wear matching gold necklaces).
The band performed two songs: "Danger's No Stranger" and "Wet Paint." Both videos have MTV-style captions that refer to Splotchkat Records, an in-joke reference to composer Chris Cerf's publishing company; although on Count It Higher: Great Music Videos from Sesame Street, "Wet Paint" features different captions referring to Mootown Records, a parody of Motown Records.
In an MTV parody intro to the longer version of "Wet Paint," the Hot Pink Anything Muppet VJ explains the group's back story; the group formed in Mississippi, and when trying to make it big in New York City, they sold an occasional quart of milk to help make ends meet.
Notes
The cows of the Moo Wave also did backup vocals for Kermit the Frog in "Do-Op Hop," another song from Season 16 composed by Christopher Cerf.
In the MTV parody intro to the longer version of "Wet Paint", the Hot Pink VJ mentions one of their albums (said to be new and unreleased): "Wet Paint and other Sight Words".
Sources
↑ The Times-News: 'Sesame Street' turns sweet 16
↑

Facebook communication between P. Arciero and G. Kieran. March 7, 2011