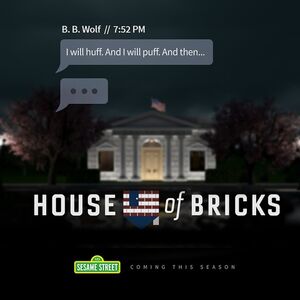 House of Cards is a political drama and the first original series produced for Netflix, focusing on a ruthless American politician. Premiering in 2013, it is a loose adaptation of the 1990 BBC mini-series of the same name (and its sequels, based on the novel by Michael Dobbs), and retains the device of the protagonist (Frank Underwood, in this case) often speaking directly to the audience to reveal his true thoughts.
References
Muppet Mentions
The sixth episode features a CNN debate between Frank Underwood and Marty Spinella that devolves into a metaphor about vowels, which Spinella compares to Sesame Street.
Connections
Sources
↑ Google+ post by Kevin Spacey
Ad blocker interference detected!
Wikia is a free-to-use site that makes money from advertising. We have a modified experience for viewers using ad blockers

Wikia is not accessible if you've made further modifications. Remove the custom ad blocker rule(s) and the page will load as expected.