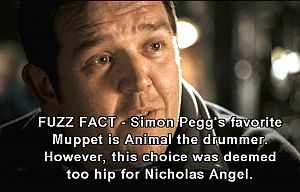 Hot Fuzz is a 2007 comedy directed by Edgar Wright, the second of his "Three Flavours Cornetto Trilogy" featuring Simon Pegg and Nick Frost.
Muppet Mentions
In one scene, Sergeant Nicholas Angel (Pegg) tells PC Danny Butterman (Frost) the story of how he always wanted to become a policeman. At one point, he adds "Barring the summer of 1979, when I wanted to be Kermit the Frog." When he finishes, Butterman comments, "I think you'd have made a great Muppet."
The DVD's "Fuzz Facts" text commentary explains that Simon Pegg's favorite Muppet is actually Animal, which didn't fit the character.
Connections
Ad blocker interference detected!
Wikia is a free-to-use site that makes money from advertising. We have a modified experience for viewers using ad blockers

Wikia is not accessible if you've made further modifications. Remove the custom ad blocker rule(s) and the page will load as expected.