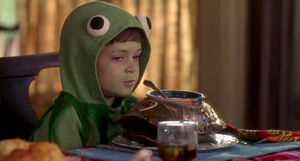 Hope Floats is a 1998 romantic comedy about a woman whose marriage ends when her husband reveals his infidelity on a talk show.
Mentions
One scene features a child dressed as a frog in a multi-pointed collar eating dinner at the table. His grandmother asks, "How's your dinner, Kermit?" Speaking to her daughter, she points out that she's happy without any big meaning in her life, and points back to her grandson, "Look at Kermit, here. You think it's easy being green?"
Connections
Ad blocker interference detected!
Wikia is a free-to-use site that makes money from advertising. We have a modified experience for viewers using ad blockers

Wikia is not accessible if you've made further modifications. Remove the custom ad blocker rule(s) and the page will load as expected.