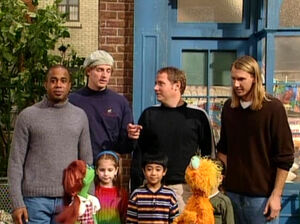 Hootie & the Blowfish is a Grammy Award-winning band fronted by singer Darius Rucker, which was founded in 1986 while some of the members attended the University of South Carolina. In Sesame Street Season 31, the band made an appearance with Elmo, Zoe and Elizabeth. to sing "Hold My Hand," a variation of the band's hit song that emphasized crossing the street with a grown-up in the Sesame Street version.
Rucker was also interviewed for VH1's Greatest TV Moments documentary, "Sesame Street Music A-Z" in which he talked about his appearance.
External links
Ad blocker interference detected!
Wikia is a free-to-use site that makes money from advertising. We have a modified experience for viewers using ad blockers

Wikia is not accessible if you've made further modifications. Remove the custom ad blocker rule(s) and the page will load as expected.