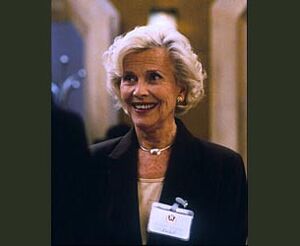 Honor Blackman (b. 1927) is an actress who played Jules in the Creature Shop TV movie Jack and the Beanstalk: The Real Story.
A film and TV star in Great Britain since the 1950s, her film roles include Pussy Galore in the James Bond film Goldfinger and Hera in Jason and the Argonauts. But her most iconic role was as groundbreaking adventurer Cathy Gale in The Avengers.
Blackman's numerous stage credits include playing the Mother Superior in the original London production of the musical Nunsense.
External links
Ad blocker interference detected!
Wikia is a free-to-use site that makes money from advertising. We have a modified experience for viewers using ad blockers

Wikia is not accessible if you've made further modifications. Remove the custom ad blocker rule(s) and the page will load as expected.