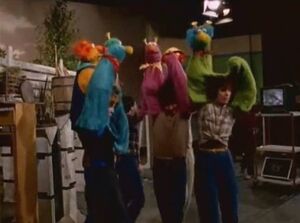 "The Honker-Duckie-Dinger Jamboree" is a Sesame Street song sung by Ernie with his Rubber Duckie. As he sings, some Honkers (including Mr. Honker) and one of the Dingers dance around, making their respective sounds. The song takes place on a farm.
Episode 4028 focused on Ernie planning another Honker-Duckie-Dinger Jamboree. In a Play with Me Sesame segment, Grover played along to a showing of the clip. In "Elmo's World: Bells", Ernie performs a rendition of the song in a video e-mail.
Notes
Releases
Audio
Video
Online
Publications
Ad blocker interference detected!
Wikia is a free-to-use site that makes money from advertising. We have a modified experience for viewers using ad blockers

Wikia is not accessible if you've made further modifications. Remove the custom ad blocker rule(s) and the page will load as expected.