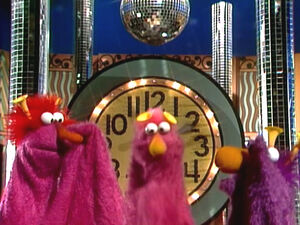 "Honk Around the Clock" is a Sesame Street song performed, in voice-over, by Christopher Cerf, as the Honkers (including Mr. Honker and Henrietta) honk their noses while dancing around a large clock. At the end, the Honkers dance off honking as the clock moves along with them, followed by a loud crash.
The song's title is based on "Rock Around the Clock" by Bill Haley & his Comets. The music however resembles "Runaround Sue" by Dion & the Belmonts.
The song was performed by The Count and the Honkers in the Sesame Street Live show, Around the World.
Notes
Performers in the song include Brian Muehl, Martin P. Robinson and Jerry Nelson.
On the "Count It Higher: Great Music Videos from Sesame Street" VHS, the video has MTV-style captions that refer to the album "Play Through the Nose", on the "Oogah Records" label; the lyrics were released on a songbook in the original release of the video.
Releases
Audio
Video
Special
Other
Ad blocker interference detected!
Wikia is a free-to-use site that makes money from advertising. We have a modified experience for viewers using ad blockers

Wikia is not accessible if you've made further modifications. Remove the custom ad blocker rule(s) and the page will load as expected.