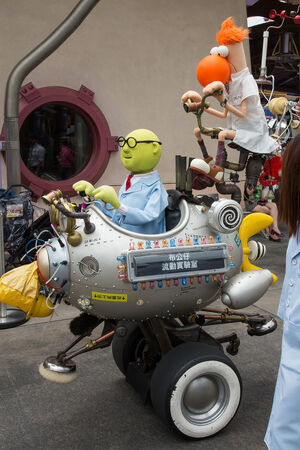 Hong Kong Disneyland is the fifth Disney theme park that opened in Lantau Island, Hong Kong on September 12, 2005.
Kermit the Frog and Miss Piggy made a special appearance in a 2005 television special celebrating the grand opening event of the park.
Muppet Mobile Lab, an interactive attraction featuring Dr. Bunsen Honeydew and Beaker, debuted in 2008. At the Hong Kong park, the characters speak in Cantonese. One version of the attraction featured Beaker with an inflatable nose.
The first Muppet merchandise sold at Hong Kong Disneyland was a 2015 Miss Piggy sticker, included in a line of stickers with Disney characters' faces.
Ad blocker interference detected!
Wikia is a free-to-use site that makes money from advertising. We have a modified experience for viewers using ad blockers

Wikia is not accessible if you've made further modifications. Remove the custom ad blocker rule(s) and the page will load as expected.