Ad blocker interference detected!
Wikia is a free-to-use site that makes money from advertising. We have a modified experience for viewers using ad blockers

Wikia is not accessible if you've made further modifications. Remove the custom ad blocker rule(s) and the page will load as expected.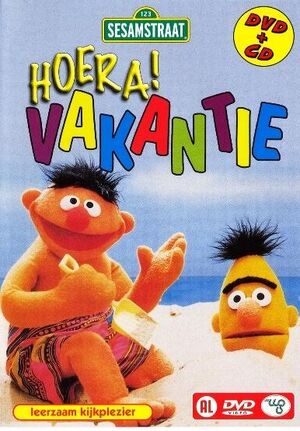 Logeren/ Vakantie (Staying Over/ Vacation) is a DVD release of Sesamstraat, the Dutch co-production of Sesame Street. The DVD was previously released on two videotapes.
The DVD contains a sixty minute compilation of insert clips from the Dutch episodes and American clips dubbed to Dutch. The first half focuses on fairytales. The second half focuses on imagination. The CD is the same one as Vakantie Favorieten.
This DVD was the eighth Sesamstraat DVD produced by Weton Wesgram (SESDVD008)in a series of Sesamstraat DVD's.
Segments
Staying Over
Logeren (Staying Over)
Koekiemonster's Nachtmerrie 1 (Cookie Monster's Nightmare 1)
Pudding Met Vel (Pudding With a Skin)
Koekiemonster's Nachtmerrie 2 (Cookie Monster's Nightmare 2)
Z In De Ruimte (Z In Space)
Heimwee (Home Sick)
Opschuiven (Move Over)
Opa Wil Slapen (Grandfather Wants To Sleep)
Logeren (Staying Over)
Ernie Komt Weer Thuis (Ernie Returns Home)
Koffer en Hond (Suitcase and Dog)
Bijna Thuis (Almost Home)
Heimwee (Home Sick)
Logeren Bij Tante (Staying Over At Aunt's Place)
Vacation
Globe
Reizen (To Travel)
Kamperen Met Grover (Camping With Grover)
Hond Gaat Op Reis (Dog Goes Traveling)
Grote Reis (Big Journey)
Rachel Aan Het Strand (Rachel At The Beach)
Bert en Ernie Slapen Buiten (Bert and Ernie Sleeping Outside)
Als Ik een Z Schrijf (When I Write a Z)
Vogelhuisje (Little Birdhouse)
Zomerzand (Summer Sand)
Vergeetachtige Jan Vergeet Wie er Op Vakantie Gaat (Forgetfull Jones, Forgot Who Goes on Vacation)
In Je Gedachte (In Your Thoughts)
Oesters (Oysters)
Mannenkoor Gaat Kamperen (Men's Choir Goes Camping)