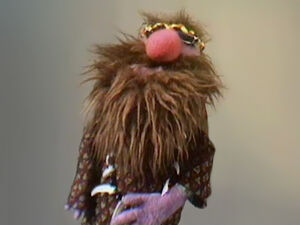 A nameless bearded hippie character appeared during the first season of Sesame Street, often accompanied by other Anything Muppet hippies.
The character has had various performers on the show, including Caroll Spinney (in Kermit's "Hair" lecture), Frank Oz (in "Good Morning Starshine"), and Jim Henson in the "forward and backward sketch and the original "first and last sketch (his most notable speaking role).
The character was also seen in some early season closings, holding up the Sesame Street and CTW signs.
The puppet is reworked from the early Grump (used in The Ed Sullivan Show sketches and the Sesame Street Pitch Reel), dressed in a shaggy brown beard and a pair of glasses.
Sketches
| Picture | Theme | First appearance | Description |
| --- | --- | --- | --- |
| | "Good Morning Starshine" | Episode 0003 | Bob sings "Good Morning Starshine" to a Reddish-Magenta Anything Muppet girl, then is joined by a group of hippies, including this character. |
| | ‎"Yellow Submarine" | Episode 0017 | Bob dresses up three Anything Muppets (Fat Blue, Pumpkin, and Purple), who scoot off to their submarine and sing "Yellow Submarine", where they party with other Muppets (including Beautiful Day Monster, Cookie Monster, and this character). For this sketch, the character had eyes. |
| | Kermit's "hair" lecture | Episode 0028 | Kermit gives out a lecture about hair, and this character shows off his beard as an example. |
| | A Hot Pink Anything Muppet's "backward" and "foward" lecture | Episode 0069 | With the help of a group of hippie Anything Muppets (including this character and a character who would later be Little Jerry) and an early version of Grover, a Hot Pink Anything Muppet gives a lecture on "backward" and "forward". |
| | 1970 First and Last sketch | Episode 0116 | The character leads a group of monsters previously seen on The Ed Sullivan Show in a game where they march in a line and then switch direction. |
See also