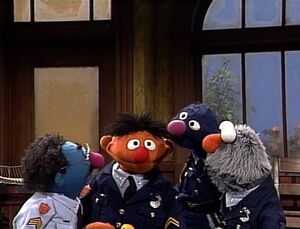 Hill Street Blues was a television drama which aired on NBC from 1981 to 1987. The series chronicled the lives of police officers in an unnamed city's police precinct. The show received a total of 98 Emmy Awards, and was surpassed only by The West Wing in the number of Emmys won by a series in its first season.
It's theme song was chosen by TV Guide as one of the 50 All-Time Favorite TV Themes, and the character of Mick Belker was chosen as number 54 in Bravo's list of the 100 Greatest TV Characters.
Mentions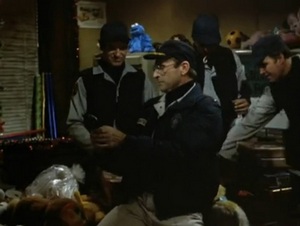 In the season 3 episode 12 "Santaclaustraphobia", a Cookie Monster plush are seen in the background on a vending machine.
References
In a Sesame Street sketch (EKA: Episode 2628), the series was parodied as "Hill Street Twos." The spoof featured Grover and Ernie as police officers in a precinct where the sergeant is having difficulty getting the force to split into pairs of two.
Connections
External links
Ad blocker interference detected!
Wikia is a free-to-use site that makes money from advertising. We have a modified experience for viewers using ad blockers

Wikia is not accessible if you've made further modifications. Remove the custom ad blocker rule(s) and the page will load as expected.