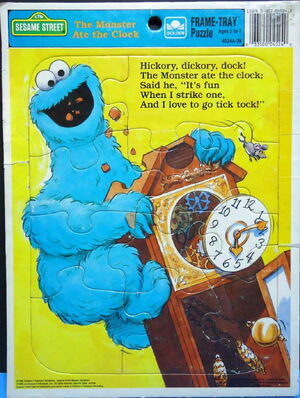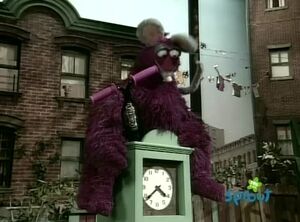 Hickory Dickory Dock is a popular nursery Rhyme. The earliest recorded version of the rhyme was published in London around 1744, and began, "Hickere, Dickere Dock". The modern version is as follows:
"
Hickory, dickory, dock,


The mouse ran up the clock.
The clock struck one,
The mouse ran down,


Hickory, dickory, dock.
"
Adaptations
Recordings
References
In a 1995 episode, the titular mouse attempts to reenact the rhyme when his clock breaks. As Luis tries to fix the clock, the mouse adopts Big Bird as a replacement, reciting a modified version of the rhyme called "Hickory Dickory Dird."
The theme of a 2001 episode of Sesame Street is Nursery Rhyme day. Telly takes on the role of the mouse from the rhyme, but he has trouble climbing the clock, using his pogo stick to reach it, but promptly falling off. Big Bird rewrite they rhyme, having Jack and Jill (played by Slimey and Glo Worm) climb the clock instead.
A 2004 episode of Sesame Street features The Man in Brown, who owns a pig named Hickory Dickory, the star of the rhyme "Hickory Dickory Dare."