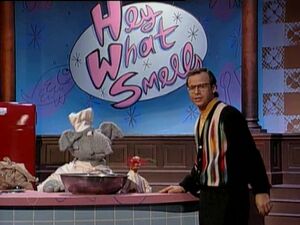 Hey What Smells (So Good? It's Time to Cook with Seymour and Pepe) was featured in episode 202 of Muppets Tonight.
In Seymour and Pepe's latest attempt at discovering their hidden showbiz talent, the duo accidentally cooked up a Bread Monster while Rick Moranis sang his "Salute to Late Fifties Crooners, Obscure British Bands, and Bill Withers." 
Ad blocker interference detected!
Wikia is a free-to-use site that makes money from advertising. We have a modified experience for viewers using ad blockers

Wikia is not accessible if you've made further modifications. Remove the custom ad blocker rule(s) and the page will load as expected.