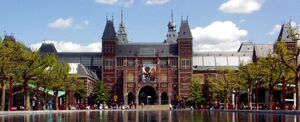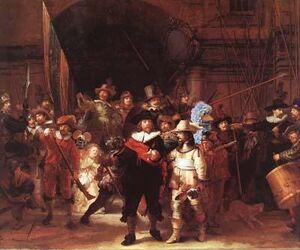 Het Rijksmuseum in Amsterdam is one of 16 Dutch national museums dedicated to arts and history. The museum is located at the Museum Square in the borough Amsterdam South, close to the Van Gogh Museum, the Stedelijk Museum Amsterdam, and the Concertgebouw.
The most famous painting in the museum is Rembrandt van Rijn's The Night Watch, visited by Barack Obama and the prime minister of The Netherlands Mark Rutte on March 25 2014.
The museum hosts a Sesamstraat audio tour. In 2001, they made a special Dutch-language audiotape with the tour on it, that you can rent (with a walkman) for €2,50. The text was written by Chris Winsemius
Visitors could choose between a tape with Pino, Tommie or Ieniemienie and they are helped by Lot from Sesamstraat. They all introduce `De Nachtwacht´ (The Nightwatch) and many more famous paintings through a special journey. This is done with jokes, games and they even wrote a special song for when a child is standing in front of `De Nachtwacht´: "Hello, I am Pino. And especially for Lot´s birthday I´ve made a beautiful painting! It hangs somewhere in this museum. But when you follow the painting drops on the floor.... you will find it!" And with these words, the tour begins.
In 2004, the audio tour was updated. It became available in seven languages and was now digital on an mp3 player this time. The tour now could be listened to in Dutch, nglish, French, German, Spanish, Italian and Japanese. In this version, the main speakers are Tommie and Meneer Aart Hello, I am Tommie, what is your name?, the tour audio starts with. Addressing the young visitor, forgetful Tommie calls him or her 'Dinges' (Thingy). Meanwhile Meneer Aart tries in a good and educational way to teach the history of art. Tommie and the young museum visitor have a private talk about a girl in one of Johannes Versponck paintings from 1641, and Purk is filling his diaper in the meantime. The tour ends at De Nachtwacht (The Night Watch), with Het Nachtwachtlied (The Night Watch Song). The song Het Nachtwachtlied was specially written for this.
For the 30th anniversary celebration of Sesamstraat in 2005, The Rijksmuseum had on its website a game called Waar Zitten Ze? (Where Are They?). There you could interactively search for the characters in famous paintings. They were digitally hidden behind people or things and appear when the mouse is moved over the appropriate spot.
External links