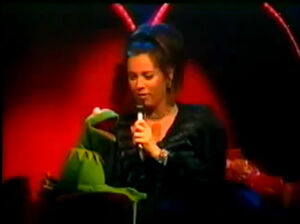 "Het Gevoel Van" (The Feeling Of...) was a well known game show in the Netherlands. Celebrity contestants had to answer questions about songs from a certain year, or sing them. When the KRO network celebrated its 75th anniversary in 2000, it was celebrated with a special episode of "Het Gevoel Van De KRO". KRO originally aired The Muppet Show in The Netherlands, and since it was such a hit, Kermit was asked to make an appearance on this show.
Sitting intimately on a red couch, Kermit (performed by Steve Whitmire) sang a touching rendition of "Close to You" with the host, Marjolein Keuning.
Ad blocker interference detected!
Wikia is a free-to-use site that makes money from advertising. We have a modified experience for viewers using ad blockers

Wikia is not accessible if you've made further modifications. Remove the custom ad blocker rule(s) and the page will load as expected.