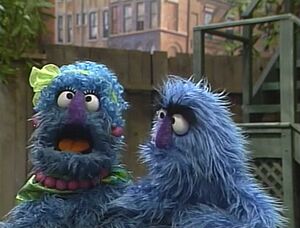 Herry's Mother appears in a song "Herry's Family Song" with Herry, his granny, and his dad. There she contributes a verse that points out how she and her son have very similar long, purple noses. A different version (made from another Herry puppet) appears in We All Sing Together, and has appeared on the show as early as season 24 through season 29.
Herry sings about his mother in the song "Furry Blue Mommy of Mine."
Casting history
Book appearances
See also
Ad blocker interference detected!
Wikia is a free-to-use site that makes money from advertising. We have a modified experience for viewers using ad blockers

Wikia is not accessible if you've made further modifications. Remove the custom ad blocker rule(s) and the page will load as expected.