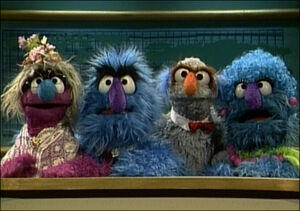 Herry's Father appears in "Herry's Family Song" with Herry, his mom, and his granny. He points out how he and his son have the same shaggy, blue fur.
The puppet used here would later be recycled as the actual Herry puppet from season 20 through season 29, with changes of features. A different version of Herry's dad, made from a gray Anything Muppet monster, appears in We All Sing Together.
Book appearances
See also
Ad blocker interference detected!
Wikia is a free-to-use site that makes money from advertising. We have a modified experience for viewers using ad blockers

Wikia is not accessible if you've made further modifications. Remove the custom ad blocker rule(s) and the page will load as expected.