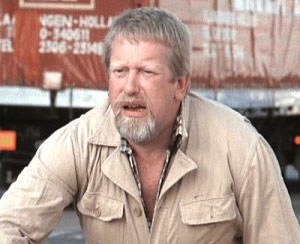 Hero Muller (b. 1938) is a Dutch actor who dubs Cookie Monster, Herry Monster, and the Two-Headed Monster on Sesamstraat, the Dutch co-production of Sesame Street, and Statler in the Dutch dub of The Muppets.
Muller took over both Cookie and Herry in the late 1980s from Peter Piekos, who couldn't be located at the time. Cookie and Herry used to sound almost alike; in recent years, Muller has tried to make Herry's voice a bit more nasal. Unlike the original English-speaking Cookie Monster, the Dutch "Koekiemonster" uses correct grammar in his speech.
Muller's other dubbing credits include Mr. Wilson in Dennis the Menace and King Gregor in Disney's Gummi Bears. On-camera, Muller appeared in Paul Verhoeven's films Soldier of Orange (with Edward Fox) and The Fourth Man (with Erik J. Meijer).
External links