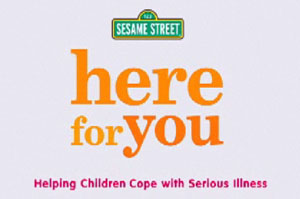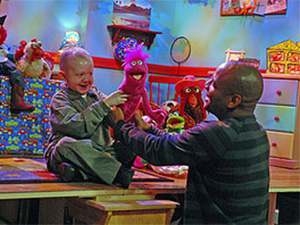 Here For You is a Sesame Street outreach video produced in 2007 for children with serious illnesses. It was written by Joey Mazzarino and distributed by The Center for Advanced Illness Coordinated Care to 250 children's hospitals.
The video features Elmo's hospitalized cousin Chester and Danny, a young leukemia patient. The program is designed to help families talk about their situation and cope with a similar condition.
For a time, the video was on the iTunes Store as part of the Learn Along with Sesame series and at the Sesame Workshop website, but it is no longer available.
Credits
Executive Producer: Kevin Clash
Producer: Liz Sorem
Directed by: Kevin Clash
Written by: Joey Mazzarino
Music Composed by: Mike Renzi
Lyrics: Joey Mazzarino
Muppet Performers:
External links
Ad blocker interference detected!
Wikia is a free-to-use site that makes money from advertising. We have a modified experience for viewers using ad blockers

Wikia is not accessible if you've made further modifications. Remove the custom ad blocker rule(s) and the page will load as expected.