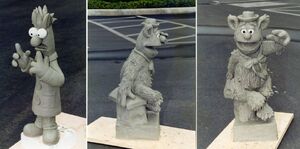 Here Come the Muppets was a proposed parade for Disneyland park during the failed sale of the Muppets to Disney in the 1990s.
Similar to Disneyland's Party Gras parade which launched in 1990, giant inflatable characters of Sweetums, The Swedish Chef, Fozzie Bear on a trunk with Vaudeville props, Kermit the Frog in his director's chair, Animal bursting from his drum, Beaker, Dr. Teeth, Gonzo in his cape and red tennis shoes (not pictured), and Miss Piggy would have rolled down Main Street U.S.A.
The parade was part of a larger promotion of the Muppets taking over Disneyland, while Mickey Mouse, Donald Duck, and the other Disney characters took a year long vacation from the redubbed "Muppetland" theme park, with the excuse being they were tired from Disneyland's 35th Anniversary Celebration.
The sculpts were created by Rich Collins (Kermit, Sweetums, Dr. Teeth and Animal), Scott Sinclair (Miss Piggy), Jackie Perreault (Swedish Chef) and Kevin Kidney (Fozzie, Beaker and Gonzo).
See also
Ad blocker interference detected!
Wikia is a free-to-use site that makes money from advertising. We have a modified experience for viewers using ad blockers

Wikia is not accessible if you've made further modifications. Remove the custom ad blocker rule(s) and the page will load as expected.