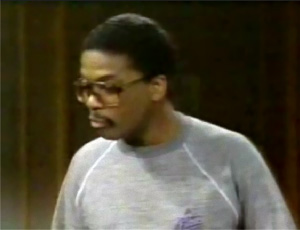 Herbie Hancock (b. 1940) is an Academy Award- and Grammy award-winning American jazz pianist and composer. He embraced elements of rock, funk, electro, and soul while adopting freer stylistic elements from jazz.
In the 1980s, Hancock made an appearance on Sesame Street. Maria and the Kids visit him in the studio where he demonstrates what a Fairlight CMI synthesizer can do with Tatyana Ali's voice. The segment closes with a rendition of the "Sesame Street Theme" as played by Hancock.
External links
Ad blocker interference detected!
Wikia is a free-to-use site that makes money from advertising. We have a modified experience for viewers using ad blockers

Wikia is not accessible if you've made further modifications. Remove the custom ad blocker rule(s) and the page will load as expected.