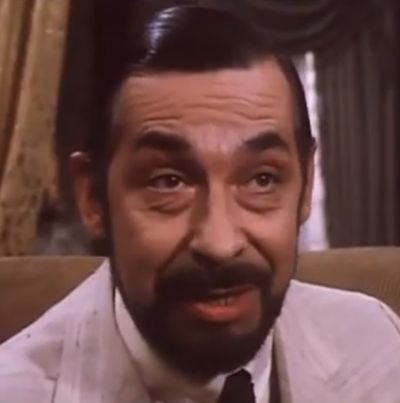 Herbert Weicker (1921-1997) was a German voice actor who was heard in several Muppet dubs, notably as Sweetums, J. P. Grosse, and as Pa Gorg on the Fraggle Rock co-production Die Fraggles. In Bibos abenteuerliche Flucht (Follow That Bird), he also voiced Snuffy.
Weicker was the German voice of Leonard Nimoy in the dubs of Star Trek and other films and TV appearances, in addition to frequently dubbing Christopher Lee (as both Fu Manchu and Dracula). In Blake Edwards' Pink Panther movies, he dubbed Herbert Lom as Clouseau's homicidal boss/nemesis Dreyfuss. He was a staple of the localized James Bond soundtracks, dubbing recurring character General Gogol (Walter Gotell), Yaphet Kotto in Live and Let Die, Christopher Lee's Scaramanga in The Man with the Golden Gun, and the unseen Blofeld in For Your Eyes Only.
Weicker also dubbed such diverse actors as Vincent Price in Edward Scissorhands and other movies, Jason Bernard in While You Were Sleeping, Roscoe Lee Browne in Twilight's Last Gleaming, Bill Cobbs in The Hudsucker Proxy, and Leslie Nielsen in Nightstick.
In cartoons, Weicker voiced Foghorn Leghorn and was heard in such Eberhard Storeck-directed series as Vicky the Viking and Doctor Snuggles, the animated Star Trek, The Simpsons (as Leonard Nimoy, the Stonecutters' Number 1, and God), The Snorks (Dr. Galeo) and the features Heavy Metal (Barbarian leader) and The Secret of NIMH (the Great Owl).
Muppet dub credits