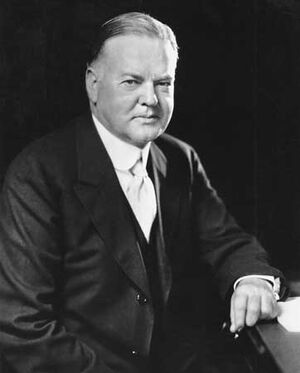 Herbert Hoover (1874 - 1964) was the 31st President of the United States, serving his time in the White House from 1929 to 1933.
References
President Hoover was mentioned in a few Rowlf the Dog scenes on The Jimmy Dean Show. In one appearance (November 21, 1963), Rowlf writes a love letter to Lassie, requesting she send an autograph picture, which he claims will sit next to his picture of Hoover. In a later sketch (January 16, 1964), Rowlf takes up jazz. When Jimmy Dean suggests he perform more jazz on the show, Rowlf quips, "Jimmy Dean in a hip combo? Is Herbert Hoover in the Rat Pack?"
Ad blocker interference detected!
Wikia is a free-to-use site that makes money from advertising. We have a modified experience for viewers using ad blockers

Wikia is not accessible if you've made further modifications. Remove the custom ad blocker rule(s) and the page will load as expected.