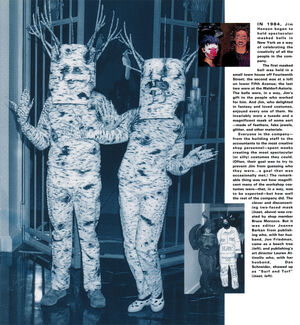 The Henson Company Masquerade Balls began in 1984 in New York City as a way for Jim Henson to celebrate the creativity of the company on all levels. The balls were held for four years, with the final two held at the Waldorf-Astoria. The events were open to all staff, from accounting to the building staff, with many attendees wearing elaborate costumes.
In the Picture-in-Picture commentary on the Labyrinth Blu-ray, Cheryl Henson cites the company balls as inspiration for the Masquerade Ball sequence in Labyrinth. In the same featurette, Kevin Clash recounts a prank Steve Whitmire and Richard Hunt pulled on Jim Henson, in which Whitmire came dressed as an aspiring writer, concealing his identity the guests of the party.
References
Gallery
Videos
Sources
Ad blocker interference detected!
Wikia is a free-to-use site that makes money from advertising. We have a modified experience for viewers using ad blockers

Wikia is not accessible if you've made further modifications. Remove the custom ad blocker rule(s) and the page will load as expected.