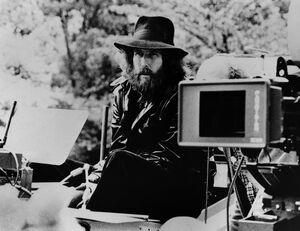 Henson is a screenplay by Robert D. Slane that chronicles the life and career of Jim Henson. On February 4, 2008 it was announced to have been purchased for production and distribution by Empire Film Group. At the time it was announced that the production would begin in summer 2008, with a $30 million budget.[1]
In February, Empire stated that they were considering A-list directors in an attempt to lure notable star actors for key roles in the film. The initial announcement cited Penny Marshall as an example of the caliber director they were pursuing.[1] Dean Hamilton-Bornstein was attached as an executive producer, with Eric Parkinson and Xavier Mitchell as producers for the project.
An e-mail from Nicole Goldman, the Vice President of Marketing and Publicity at the Jim Henson Company, stated that the project was "not affiliated with our company or the Henson family in any way."[2]
Henson was never listed on the Empire Film Group's website, under "In Pre-Production" or "In Development".[3] No further production announcements have been made.
Sources
↑ E-mail on behalf of Wikinews, by Nick Moreau. Sent February 11, 2008, reply received February 27, 2008. See talk page for details.
↑ "In Pre-Production", "In Development". Empirefilmgroup.com.
External links