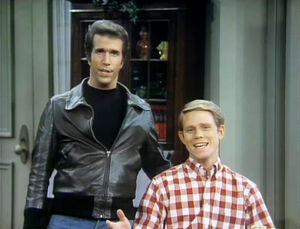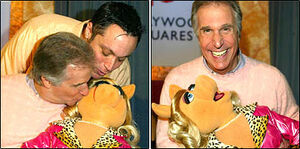 Henry Winkler (b. 1945) is an actor who became famous for the role of Arthur Fonzarelli, better known as "Fonzie" (or "The Fonz"), on Happy Days. He appeared, sometimes with Ron Howard, in character as the Fonz, in a number of segments on Sesame Street. He is currently a recurring guest on Royal Pains and Children's Hospital.
In 1983, he appeared on the cover of Muppet Magazine issue 4. He was also executive producer of Hollywood Squares when Miss Piggy appeared on the show during "Blondes Have More Fun" week. Another idea he had done in tandem with Sesame Street was the idea that it is neat to have your own library card. One week after that segment aired, enrollment for library cards in the United States increased 500%.
Sesame Street appearances
Richie Cunningham sees Fonzie brushing his teeth, even though he hadn't eaten anything. Fonzie explains to Richie the importance of dental care, and then gives Richie a toothbrush of his own.
This sketch appears as a season 9 classic cut on Old School: Volume 2.
Fonzie talks about the letter A, which he pronounces as his trademarked "Aaaayyyy". Other letters would be featured such as "C", which also starred Ron Howard. Since Fonzie often referred to the patriarch of the Cunningham family as "Mr. C", Fonz explains the purpose of capitalization, or "C" representing "Cunningham". Other letter segments were simpler in nature and shorter on time, such as where Fonzie enters a door marked with a "W" and simply recites the letter W for the audience.
A clip from the "A" segment appears in Sesame Street All-Star 25th Birthday: Stars and Street Forever!. The whole sketch can be viewed at Sesamestreet.org.
In a three-part bit, Fonzie demonstrates "on" and "off" by hitting a jukebox (which plays "Exit").
All three parts can be viewed at Sesamestreet.org. One of them was included in Sesame Street: 40 Years of Sunny Days.
Fonzie points out some parts of his anatomy such as his hands, and then tells the viewers that they are the same as the viewers' body parts.
This sketch can be viewed at Sesamestreet.org.
External links