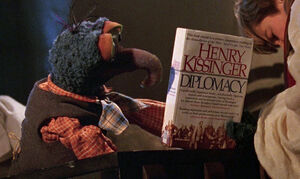 Henry Kissinger (b. 1923) is a German-born diplomat, author, and statesman best known for his stint as Richard M. Nixon's Secretary of State. He has been referenced by the Muppets a number of times over the years. He is the father-in-law of Jim Henson Company executive/producer Alex Rockwell.
References
External links
Ad blocker interference detected!
Wikia is a free-to-use site that makes money from advertising. We have a modified experience for viewers using ad blockers

Wikia is not accessible if you've made further modifications. Remove the custom ad blocker rule(s) and the page will load as expected.