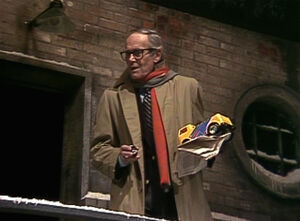 Henry Fonda (1905-1982) was a film actor best known for his roles in The Grapes of Wrath, The Ox-Bow Incident, Mister Roberts (reprising his stage role), and Twelve Angry Men.
Fonda appeared briefly in the 1978 TV special A Special Sesame Street Christmas, coming out onto the balcony to complain about putting together a Christmas present.
He is the father of Jane Fonda.
External links
Ad blocker interference detected!
Wikia is a free-to-use site that makes money from advertising. We have a modified experience for viewers using ad blockers

Wikia is not accessible if you've made further modifications. Remove the custom ad blocker rule(s) and the page will load as expected.