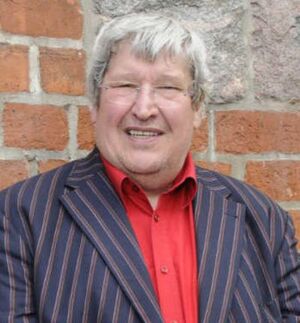 Helmut Krauss (b. 1941) is a German voice actor who dubbed Rowlf in the German dub of Muppets Most Wanted. He had previously dubbed UrZah in The Dark Crystal, episodic characters on Farscape - Verschollen im All and Die Dinos, and other parts in Creature Shop-effects films.
Krauss is most active as a voice actor, although he has appeared on-camera on the long-running children's series Löwenzahn, playing obstinate neighbor Paschulke since 1981. His deep voice has often lent itself to villainous roles, including both Mr. T (as Clubber Lang) in Rocky III and Dolph Lundgren (as Ivan Drago) in Rocky IV. Krauss has been a frequent dubbing voice of John Goodman (including The Flintstones, Arachnophobia, and The Big Lebowski), James Earl Jones (including Patriot Games and Looking for Richard), and Jack Palance (in the City Slickers movies), as well as Samuel L. Jackson in Pulp Fiction, Morgan Freeman in Stand By Me, G. W. Bailey in Short Circuit, and Walter Cronkite in Apollo 13.
For TV, Krauss dubbed James Avery on The Fresh Prince of Bel-Air, Reginald VelJohnson on Family Matters, Edward Asner on The Mary Tyler Moore Show, Richard Moll on Night Court, and the title horse on Mr. Ed. Animation roles include Benny the Cab and the gorilla in Who Framed Roger Rabbit?, Henry Waternoose in Monsters Inc., the Archdeacon in The Hunchback of Notre Dame, McLeach in The Rescuers Down Under, Rowf in The Plague Dogs, Fatso in Casper and its sequels, Taurus on Gargoyles, and various guest characters on DuckTales. He frequently records for German "Hörspiele" (audio dramas), including Vampiro del Mar in Geisterjäger John Sinclair, various parts in the Sherlock Holmes and Father Brown series, and characters in the Three Investigators series.
Muppet/Creature Shop credits
External links