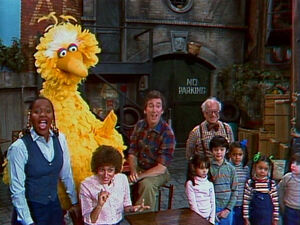 "Hello Hello Hello Song" was performed at the opening of a Season 12 episode of Sesame Street. It is sung by Big Bird, Olivia, Bob, Mr. Hooper and the Kids, and signed by Linda as a way to make the home viewer feel not so shy.
Behind-the-scenes rehearsal footage of the song, along with the song itself, was included in the 40 Years of Sunny Days DVD.
Releases
Video
See also
Ad blocker interference detected!
Wikia is a free-to-use site that makes money from advertising. We have a modified experience for viewers using ad blockers

Wikia is not accessible if you've made further modifications. Remove the custom ad blocker rule(s) and the page will load as expected.