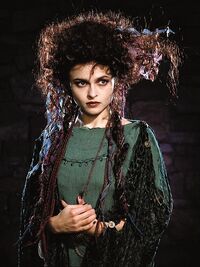 Helena Bonham Carter (b. 1966) is an English actress, who has appeared in films such as Fight Club, Frankenstein, The King's Speech and the Harry Potter films. She has also worked on six of her boyfriend Tim Burton's films (including his remake of Planet of the Apes). Carter has also made guest appearances on Absolutely Fabulous and Miami Vice.
Bonham Carter played Morgan LeFey in the Creature Shop TV-movie Merlin.
On July 5, 1984 a "dark and cynical" Helena Bonham Carter auditioned along with nineteen other actresses for the role of Sarah in Labyrinth. She was listed as a potential candidate, but it was thought best to have Sarah be played by an American actress.[1]
Sources
External links
Ad blocker interference detected!
Wikia is a free-to-use site that makes money from advertising. We have a modified experience for viewers using ad blockers

Wikia is not accessible if you've made further modifications. Remove the custom ad blocker rule(s) and the page will load as expected.