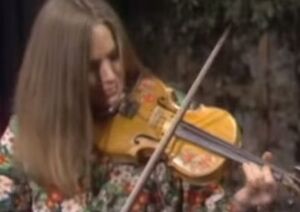 Helen Hooke is a musician and songwriter. She was a member of the trio The Deadly Nightshade, playing violin, and her energetic fiddling can be seen in several Sesame Street segments, notably the instrumental piece "Rubber Dolly." With fellow Nightshade bandmate Pamela Brandt, she co-wrote several Sesame songs, including "Wheels on My Feet."
When Deadly Nightshade disbanded after 1976, Hooke recorded her own albums and played violin as backup to Nana Simopoulos and Otis Ball. She later performed on Blondie's 1999 album No Exit.
Song credits
(all with Pamela Brandt)
External links
Ad blocker interference detected!
Wikia is a free-to-use site that makes money from advertising. We have a modified experience for viewers using ad blockers

Wikia is not accessible if you've made further modifications. Remove the custom ad blocker rule(s) and the page will load as expected.