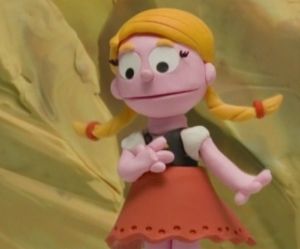 Heidi, the titular heroine of Johanna Spyri's 1880 book, appears in the Bert and Ernie's Great Adventures segment "Mountain Climbers." She hears Bert's cry for help and rushes to his aide.
Heidi is Bert's favorite fictional character and he's depicted as having a crush on her (complete with classic cartoon hearts). He's slightly less enamored of her goat. She and her goat later re-appear in the "Mechanics" and "Dog Walkers" episodes.
Other portrayals
A photo puppet version of Baby Piggy played Heidi in Muppet Babies' Classic Children's Tales.
The story was also featured in The Sesame Street Storytime Calendar 1982.