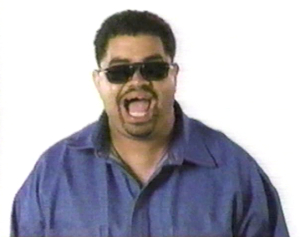 Heavy D (1967-2011; real name Dwight Meyers) was a hip-hop artist turned actor. His group, Heavy D & the Boyz, made their album debut in 1987, and later performed the theme song for the sketch comedy series In Living Color.
Heavy D made a cameo appearance in the 1994 "She Drives Me Crazy" music video from the Kermit Unpigged album, and also appeared in The Earth Day Special, which also featured the Muppets.
As an actor, Heavy D appeared in the movies Life, Cider House Rules (with Michael Caine and Tobey Maguire), and Big Trouble. On TV, he had a recurring role on Boston Public as guidance counselor Bob "Big Boy" Lick.
External links
Ad blocker interference detected!
Wikia is a free-to-use site that makes money from advertising. We have a modified experience for viewers using ad blockers

Wikia is not accessible if you've made further modifications. Remove the custom ad blocker rule(s) and the page will load as expected.